—
Life at Single Grain

Just a few key stats from our DTLA HQ
MUNCHIES
27 organic snacks served
BUBBLES
7 different LaCroix flavors stocked in our fridge
SIPS
36 DTLA bars explored
YUMS
19 food stalls at Grand Central Market explored
SMARTS
73 marketing and biz books read and discussed since 2015
VIBES
150+ hours a week collectively spent listening to podcasts
CHEERS
3 Happy Hours/month
EATS
1 team lunch per week!
…and we love doing it
together!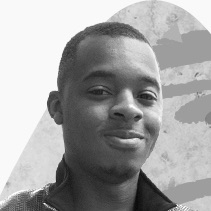 Justice Ekhaguere
Paid Advertising Manager
The beauty of working at Single Grain is the culture. I love working in a place where everyone is friendly, funny, passionate, and loves what they do. And when you're working for a company that's relentless about making sure you're growing every day, staying engaged in your your work, taken care of, and well-fed… you get Single Grain.
We're always looking for smart, passionate people who want to grow professionally. Check out our careers page for openings and if you don't see a position which fits you, email us at careers@singlegrain.com and tell us about you.